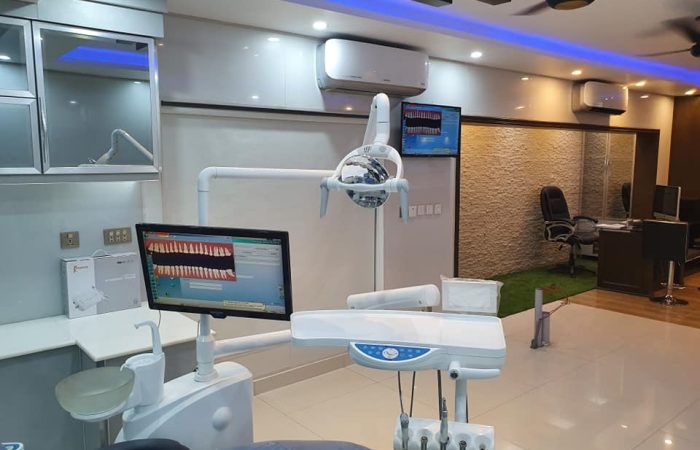 Our staff at dental solution is committed to giving our patients the best dental treatment possible and has more than ten years of expertise in the field. As many people find going to the dentist to be a frightening experience, we make an effort to make our clinic a friendly, comfortable place to be.
Our office is outfitted with cutting-edge technology and tools, and we keep up with the most recent developments in dental procedures and treatments. We are committed to giving each of our patients individualized treatment that is catered to their particular wants and worries.
Our team's competent dentists are lead by Dr. Umer Arshad, a general and cosmetic dentist with a wealth of knowledge. We also have dental hygienists, dental assistants, and office personnel on our team who are all committed to giving our patients the best treatment possible.
In addition to general dentistry, cosmetic dentistry, orthodontics, and oral surgery, we also provide other dental treatments. Routine examinations, cleanings, fillings, and extractions are all part of our general dental treatments. Our cosmetic dental procedures include tooth whitening, veneers, and smile makeovers. We provide both conventional braces and Invisalign as orthodontic treatments. Wisdom teeth extraction and dental implants are also two of our oral surgery procedures.
Although we are aware that dental procedures can be pricey, we work to provide our clients with reasonable solutions without sacrificing the standard of service. We accept a range of dental insurance policies and offer payment alternatives to make dental treatment affordable to everyone.
Dental Solutions places a high value on patient education and motivates our clients to actively participate in their oral health. We take the time to thoroughly explain processes, respond to inquiries, and offer advice on at-home dental hygiene.
We take a customized approach to every treatment plan since we are aware that every patient has specific dental needs. We collaborate closely with our patients to develop a treatment strategy that is suited to their individual requirements and worries.
We often take part in neighborhood activities and charitable causes because we believe in giving back to the community. Also, we put an emphasis on environmental sustainability and make efforts to lessen our practice's carbon imprint.
We provide new customers with a complimentary initial consultation because we recognize that selecting a dental office is a significant choice. We will talk about your dental history, issues, and objectives during this appointment, as well as provide you a thorough assessment of your oral health.
Dental Solutions is dedicated to offering our patients first-rate dental care in a friendly setting. We work to make dental treatment available and affordable for everyone because we recognize how important oral health is to overall health and wellbeing. We are eager to have you as a patient at our office and to give you the best service possible.
Discover Dr. Umer Arshad, a skilled dentist who can handle all of your oral health needs.
Nothing is more crucial when it comes to maintaining your dental health than having a reputable and knowledgeable dentist on your side. Dr. Umer Arshad has the knowledge and abilities to assist you in achieving excellent oral health, whether you require a regular cleaning, a filling, or more complex procedures like dental implants or orthodontics.
Dr. Umer Arshad, a dentist with more than 15 years of expertise, is well-known for her skill. He is renowned for his kind manner, unique approach, and dedication to patient education. He takes the time to comprehend your particular demands and problems, whether you're a youngster or an adult, and collaborates with you to create a treatment strategy that will enable you to reach your objectives.
Benefits of choosing Dr. Umer Arshad for your dental care:
To satisfy all of your oral health needs, Dr. Umer Arshad provides a broad variety of dental treatments. He has the knowledge to assist you in achieving a healthy and beautiful smile, from regular cleanings and exams to cosmetic procedures like tooth whitening and veneers. In order to provide you with the treatment you require in a single convenient location, he also offers cutting edge procedures including root canals, orthodontics, and dental implants.
You are treated as a cherished member of the dental family at Dr. Umer Arshad rather than merely a patient. Dr. Umer Arshad and his staff spend time getting to know you and comprehending your particular wants and worries. Modern methods and technology are employed to deliver the best possible treatment while ensuring that you are at ease and comfortable throughout your visit.
Sensitive teeth treatment
As a preventive measure, a sealant is put on the chewing surfaces of the back teeth. Fill in the cracks in your teeth where bacteria can hide to help prevent cavities. Sealants for your teeth can stop cavities and save you time and money.
Dr. Umer Arshad is aware of the value of your time. He provides various scheduling alternatives in order to work with your hectic schedule. He can work with you to find a time that is convenient for you, whether you require an early morning or late evening appointment or a weekend visit.
You don't have to trade quality for budget at the office of Dr. Umer Arshad. He has reasonable prices and accepts the majority of insurance policies, allowing you to receive the care you require without going over your budget. In order to make the cost of your dental care more reasonable, he also provides financing options.
In order to give his patients the finest treatment possible, Dr. Umer Arshad stays up to date with dental technology. For this reason, he makes investments in the newest tools and methods, like as intraoral cameras, laser dentistry, and digital X-rays. This makes your appointment more pleasant and productive while also enabling him to offer more precise diagnosis and treatments.
Reviews from content patients
Check out what our patients have to say about their experiences at the office of Dr. Umer Arshad before you believe us. Patients have given us a 5-star rating on Google and Yelp and have praised our welcoming staff, individualized service, and excellent outcomes.
Dr. Umer Arshad is here to assist you whether you require more complex dental care or are due for a regular cleaning. Make an appointment with us right now to discover the benefits of individualized, top-notch dental treatment.
Aroosha Fatima
2023-03-10
The team was very professional Good experience.
One of the best dentist in sargodha division
We had such a great experience. My mother was having severe pain and we have been visiting different dentists but Dr. Umer helped her get rid of the pain instantly. He was kind enough to attend her even after clinic hours. The clinic is very modern in terms of literally everything. I am so grateful and he has been so kind. 10/5 experience ngl
I had teeth whitening and got wonderful results, thumbs up👍
Muhammad Ishfaq Ashraf
2022-03-04
My friend recommended dental solutions for me and I'm very satisfied with everything
Dr. Umer Arshad is best dentist
Boht acha clinic hai main nay dusray cities main bhi dentist ko visit kiya hai lekin aisi services puray pakistan main kahin nahi mili
Me and my sister for scaling and polishing and both of us are very happy with the treatment.
Kashf Ul HUdha
2022-03-04
I went to dr umer for dental treatment he is an amazing person, he listened to me very carefully, gave his humble treatment in the next appointment and I'm very satisfied, God bless you