Teeth Cleaning in Sargodha
Your Passport to a Beautiful Smile: Dental Solutions
Dental Solutions is the place to go if you want the best dental care in Sargodha. With Dr. Umer Arshad in charge, our dentistry office is dedicated to giving the best care for teeth and gums. Scaling and polishing in Sargodha stands out as a very effective way to get a great smile among the many services we offer.
An Overview of Scaling and Polishing, Knowing Their Value
Scaling, which is also called "dental cleaning," is an important dental treatment that includes removing plaque and tartar buildup from the surfaces of the teeth and below the gum line. Even if you brush and floss your teeth every day, bacteria and deposits can build up in places that are hard to reach. Scaling your teeth  can keep you from getting gum disease and other problems with your oral health.
The next step, after scaling, is to clean the teeth to make them as smooth as possible. When you do this to get rid of spots, your teeth will look cleaner and better. Polishing not only makes your teeth look better, but it also helps you keep good mouth health.
What Makes Dental Solutions Different
The Benefits of Scaling and Polishing in sargodha
Scaling greatly lowers the risk of gum disease and tooth decay by getting rid of plaque and tartar. This makes gums healthy and teeth stronger.
Getting rid of germs and food particles that cause bad breath in hard-to-reach places will give you fresher breath and more confidence in social settings.
Polishing gets rid of spots and stains, leaving you with a bright smile.​
Scaling and cleaning your teeth regularly can help you avoid expensive dental procedures caused by bad oral care.
Scaling and polishing teeth quickly and without pain
At your first visit, Dr. Arshad will check your oral health, listen to your worries, and make suggestions for a custom scaling and polishing plan based on what he finds.
Our expert hygienist will do the scaling process, which involves removing plaque and tartar from your teeth with special dental tools and careful attention to problem areas.
After the scaling is done, the teeth are polished to get rid of spots and bring out their natural shine.
Tips for Home Maintenance and Repairs
So that the benefits of scaling and polishing last as long as possible, our experts will tell you how to take care of your teeth at home.
Dental Services at Low Cost
Routine scaling and cleaning can help you get affordable dental care. Getting your teeth cleaned regularly can keep you from getting major dental problems that require more complicated and expensive treatments. Checkups at the dentist can be thought of as an investment in your long-term oral health, since they may help you avoid more expensive dental care in the future.
You can't say enough about how important scaling and finishing are. These important dental treatments not only give people a bright smile, but they also help keep dental problems like tooth decay and gum disease from happening. It's good for your overall health, confidence, and self-esteem to have healthy teeth and gums.
Under the direction of Dr. Umer Arshad, Dental Solutions in Sargodha gives personalized and all-around scaling and polishing services. Your time at our dental care centre will be relaxing, useful, and fruitful because we have up-to-date tools, hardworking staff, and a strong commitment to quality. Don't wait any longer to have a beautiful smile; plan a cleaning and polishing now to set yourself up for a lifetime of good oral health.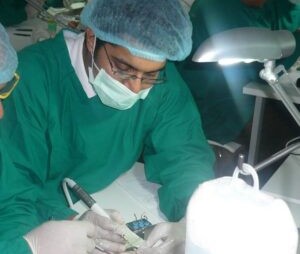 Time to pick up the phone and set up that scale and finishing!
Don't wait to get a better, whiter smile. You can get your teeth sized and cleaned by making an appointment with Dr. Umer Arshad at Dental Solutions. Find out how our full range of Scaling and Polishing in Sargodha that can help your oral health. Help us get you started on the way to a beautiful, confident smile